Packing Your Shooting Range Bag Like a Pro
Although many shooting centers have equipment for rent, the more frequently you go, the more you'll realize the value in making sure you have a properly packed range bag with all the gear you need to enjoy a day at the shooting range. The following tips will help you pack your bag like a pro:
12 Must-Pack Items for Your Shooting Range Bag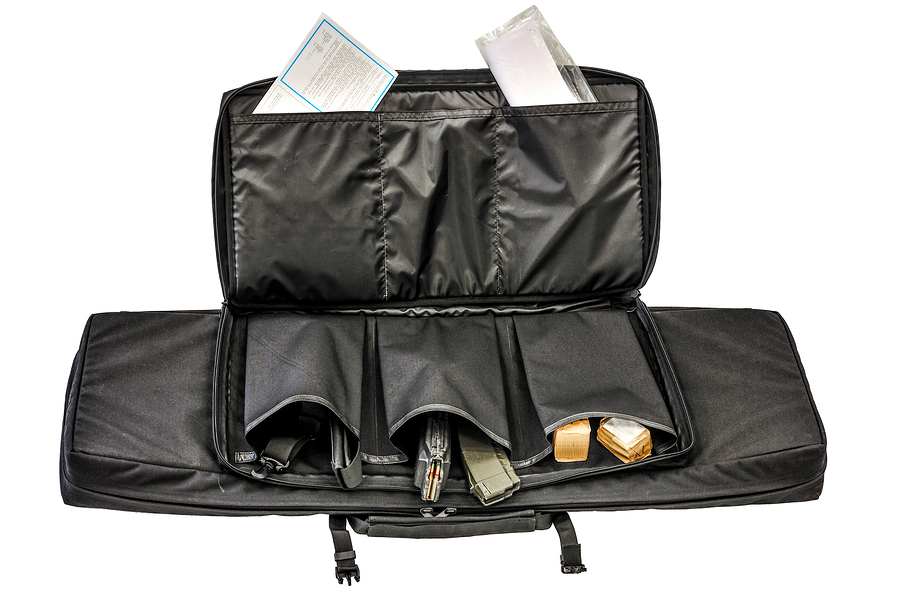 Quality headphones + extra batteries. Routine shooting practice can cause permanent hearing damage, including tinnitus, which can be devastating. Invest in a high-quality pair of headphones or sports hearing protectors. An electronic pair with noise reduction ratings of at least 22db and ability to amplify low-level ambient sounds is ideal.
Quality eye protection. Oil, dirt and other projectiles from your or another shooter's firearm can cause severe and permanent eye damage. The right eye protection is imperative to your safety.
Holster. Practicing shooting your concealed carry firearm? Pack your normal holster to get accustomed to how it feels along with the shooting.
Multi-tool kit with screwdrivers. You never know when you might need to make adjustments to your firearm or another piece of equipment. Carrying a toolkit is always wise.
First aid kit. In addition to the basic bandages and ointments, pack sunscreen with your first aid kit. This ensures you are prepared to go shooting at both indoor and outdoor ranges.
Gun oil. Ever have to leave the shooting range because of a dry gun? Then you already know the value in having this item on hand. Gun oil will keep your firearm lubricated
Notebook and pen or pencil. This will enable you to record rounds fired and make notes on how you've performed over a given period.
Disposable wipes and washcloths. After you're done at the shooting range, be sure to wipe your firearm and any magazines down. You're also likely to have encountered lead and other heavy metal particles during the course of firing, so use disposable wipes to clean your skin before leaving.
Squib rod. Squib rods are key for dislodging a stuck bullet or casing. Be sure to have one on hand to keep your gun functioning optimally.
Flashlight or tactical light. This is essential for when small adjustments or repairs are needed on or down the barrel of your firearm.
Masking tape. Masking tape is great for taping up targets or covering certain shots on a given target.
Shot timer. These are great training tools and are also another item that, while not necessary, can enhance your experience at the range.
Ammunition. Always bring more ammunition than you think you're going to need.
Nothing ends a great day at the range quicker than running out of ammo. Las Vegas Shooting Center sells most all popular handgun and rifle caliber ammunition.
Speed Loader. Save time as well as your thumbs with a good speed loader.
Magazines. Ensure you have enough of the correct magazines. It's not fun to get to the range and realize you brought the wrong magazines to the range. LVSC sells magazines for most of the popular firearms in use today.
Visit Las Vegas Shooting Center
Now that your gun bag is properly packed, come on down to our shooting range for some brass therapy! Contact us at 702-778-5872 to schedule your session today.