Las Vegas Shooting Center: Your One-stop Shop for Firearms and Accessories
Whether you're an experienced marksman or want to learn more about the world of firearms, Las Vegas Shooting Center is a must-visit attraction during your time in Las Vegas. Not only do we carry a wide array of firearms and firearm accessories at our retail store, but we have a newly remodeled onsite shooting range perfect for a couple hours of Brass Therapy. 
Our team of qualified staff members will ensure that you receive the instruction you need for a safe, enjoyable shooting experience. It doesn't matter if you're a pro at the shooting range or struggle to even hit the target; we have the knowledge to and experience to help you improve your shooting game. Or, if you're ready to add to your firearm collection or even invest in your first firearm, we can assist you with determining what piece is right for your needs. 
About Las Vegas Shooting Center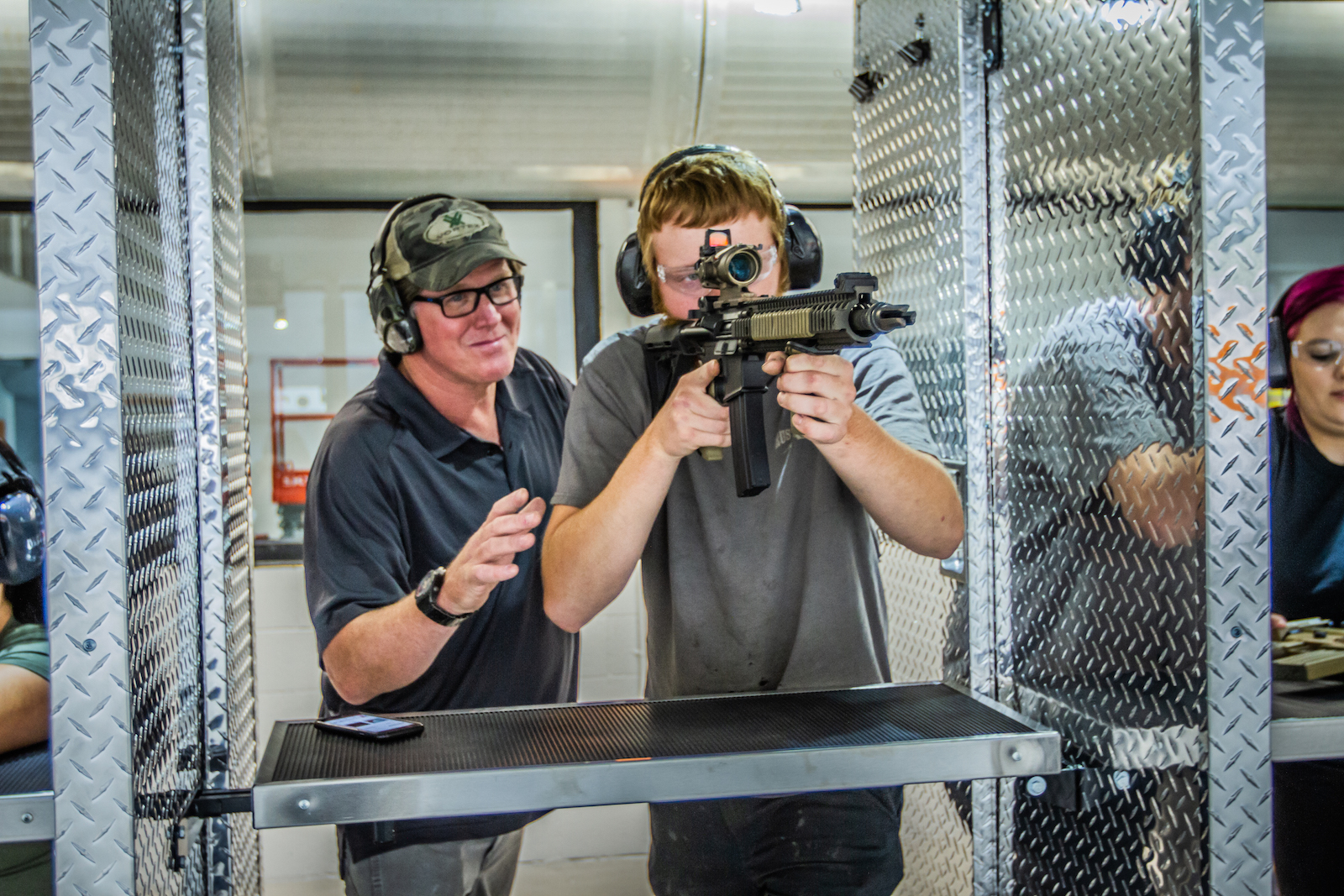 Las Vegas Shooting Center is nestled a mile away from the famous Las Vegas Boulevard. Don't worry about having to take an Uber or taxi to our shooting range; we offer free transportation to and from any hotel or casino on the strip with the purchase of a shooting package. 
Our facilities boast a 12-lane shooting range and a spacious, open design that encourages conversation and camaraderie. We're the perfect spot for any special occasion, including bachelor or bachelorette parties, team building events, birthday parties, and corporate gatherings. Contact our event specialists today to begin planning your next gathering; we'll assist with all your event details, including coordinating your food and beverages, planning the flow of your gathering, and distributing swag bags.
Package Options at Las Vegas Shooting Center
At Las Vegas Shooting Center, we have a variety of shooting packages to satisfy your Brass Therapy needs. Our First Base package features some of our most popular rifles and pistols; you'll get to shoot two 20-round mags on an MK9 or MP5 and two 10-round mags on a GLOCK 19, HK USP, or SIG P226. Want the opportunity to fire a SASS Rifle? If so, the Hat Trick package is right for you. It includes everything in the First Base package in addition to 10 rounds on the SASS Rifle. 
Need an extended Brass Therapy session? Check out the Touchdown package. Fire two 20-round mags on an AK47 and 10 rounds on the SASS Rifle. Then, decide if you want to fire two 20-round mags with a SCAR 16 or M4. You'll finish your session with two 20-round mags on an MK9 or MP5 and two 10-round mags on a GLOCK 19, HK USP, or SIG P226.
We welcome visitors of all ages to Las Vegas Shooting Center. Our Minor League package is specifically for kids between the ages of 8 and 14 years of age. Your child will have the opportunity to shoot 20 rounds with a .22 rifle and 10 rounds on a .22 pistol. 
Perhaps you're partial to a specific type of firearm. The Pistol package allows you to channel your inner gunslinger with three different types of pistols. Select from a GLOCK 19, HK USP, or Sig P226 and a 1911 or GLOCK 21, and a SNUB NOSE or VAQUERO. Or, check out the Machine Gun package for a session overflowing with brass and lead. This comprehensive option includes time with a P90, an AK47, an MP5, an M4, and a M249 Saw. 
Don't see a package that has your preferred arsenal? We can help you customize your package so that it has everything you're looking for. Add on a 50 BMG, an M249 SAW, a machine gun, a pistol, or a SASS sniper firearm so that you have the perfect mix of firearms. For an additional charge, you can double your ammo on our First Base, Hat Trick, and Touch Down packages, and you'll receive a free t-shirt to help you remember your session at Las Vegas Shooting Center. 
Plan to visit with a few friends or want to host your event at Las Vegas Shooting Center? Our group packages provide hours of amazing memories and exciting shooting time for your friends, family members, and coworkers. If you're visiting with children who are too young to shoot (under 8 years of age) or one of your group members just wants to sit back and watch, they're free to safely watch your shooting session from the sidelines. 
Though we do suggest you book your shooting session ahead of time, you don't have to decide which package you want to enjoy during time at the shooting range. Instead, you can discuss your shooting abilities and preferences with one of trained staff members to ensure your session caters to your needs. All our packages include your targets, ear protection, and eye protection.
Prepare for Your Visit to Las Vegas Shooting Center
Before you leave for your exciting excursion to Las Vegas Shooting Center, make sure that you have your passport or government-issued photo ID with you. There's no specific dress code, but we do suggest that you wear closed-toe shoes to protect your feet from falling brass fragments when you're shooting. Don't forget to grab your camera or smart phone! We encourage our customers to take plenty of pictures to remember their time at our shooting range.