Have a Badass Bachelor Party at LVSC
Before you tie the knot, send your single years off with a bang! Las Vegas Shooting Center invites you and your closest boys to indulge in some pre-wedding Brass Therapy. When you host a bachelor party at LVSC, you're locked and loaded for hours of explosive fun.
4 Reasons to Host Your Bachelor Party at LVSC
From our exceptional arsenal of firearms to our unrivaled service, LVSC is the ultimate destination for a guy's trip that hits the mark every time! Here's why: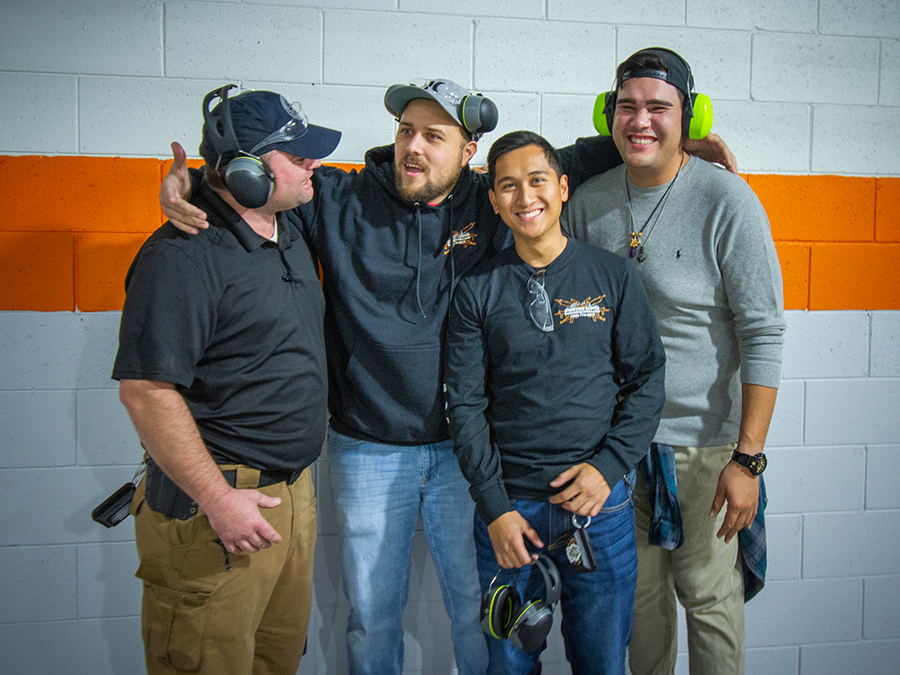 1. Weather Is Never an Issue
Las Vegas is a wonderful place to spend hours outdoors, but not everyone in the group wants to sit under the desert sun all day long. Cool down for a few hours in our comfortable facility. No matter the weather outside, it only rains bullets in our 12-lane shooting range.
2. You've Always Wanted to Shoot a Machine Gun
Trade the video game controller for the real deal at LVSC. We have a full inventory of pistols, long rifles, sniper rifles, and automatic firearms that your friends will drool over. Arm yourself with a Beretta M9, a Snub Nose .39 Special or the Dirty Harry .44 Magnum. Let loose with an AK47, P90, Remington 870, or a Barret 50 Cal.
3. We're Close to the Strip
Do you want to fill your bachelor party weekend with as many awesome activities as possible? It's easy and convenient when you spend a few hours at Las Vegas Shooting Center. Located within half a mile of Las Vegas Boulevard, the Raider Stadium, T-Mobile Arena, and tons of other exciting attractions, LVSC keeps you in the heart of Las Vegas while presenting you with an experience you won't find anywhere else. We'll even pick you up and drop you off at your hotel, so all that you'll need to focus on is having the time of your life!
4. We Make the Party All About You
Sin City is the ultimate destination for an unbelievable bachelor party. But with so many others partying it up on the Strip, it may be difficult for you to get the exclusive service and attention you desire. At Las Vegas Shooting Center, your private bachelor party receives our undivided attention. We'll reserve our entire shooting range for your group only and our highly trained staff will be standing by to give you the Brass Therapy session of your life! We can also help with swag bags, delicious food, ice-cold drinks, and more.
Take a break from the casinos and add a little adrenaline to your bachelor party at LVSC. Contact us today at 702-778-5872 to discuss our bachelor party packages, priced and tailored specifically to your needs.