What Do I Need to Bring to the Indoor Shooting Range?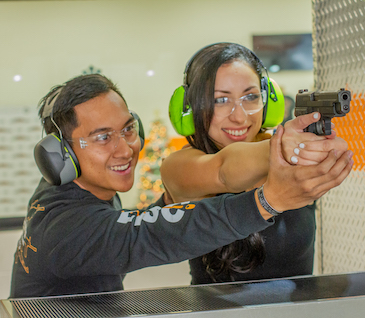 Las Vegas Shooting Center is a top destination for adrenaline-pumping excitement. Our 12-lane indoor shooting range is well-lit with an open design for the ultimate brass therapy session alongside your closest friends. Located only minutes from the Strip, the Raider Stadium and the T-Mobile Arena, our lanes are open all year long for experienced marksmen and new shooters alike.
Visiting Las Vegas Shooting Center for the First Time
Whether you've visited an outdoor or indoor shooting range before or you've never operated a firearm in a formal facility, you should know a few things before you head into Las Vegas Shooting Center. First, rest assured that we aim to make every experience as safe, fun and memorable as possible for all guests, shooters and viewers alike. Our team of highly trained firearm professionals will be with you for your entire session, helping you hone your technique and making sure that all safety procedures are constantly followed.
You should also keep in mind that our range tends to crank the volume up to 11. While we do offer standard pistols, revolvers, shotguns, and rifles, our wide selection of firearms also includes heavy hitters like the AK47, Thompson 45 and the M249 Saw machine gun. Such firepower guarantees that you'll have an experience like no other, especially if you're used to shooting skeet or firing handguns in an outdoor range.
At Las Vegas Shooting Center, we know how to have a good time and want you to have the time of your life. That's why our range safety officers are always present and available to help you get the most out of your experience and ensure all safety protocol is followed. No one should operate a firearm if they are under the influence of any drugs, alcohol or other substances, such as prescription medication. Your safety is our number one priority and we take every precaution to ensure that all of our staff members and guests are as safe as possible.
What Do I Need to Bring to the Indoor Shooting Range?
"What do I need to bring to an indoor shooting range?" is one of the most common questions we receive from locals and visitors alike. Here's a list of what you'll need:
Official Government Identification
All guests using our indoor shooting range must present a valid form of identification. A driver's license or state I.D. is acceptable for citizens of the United States. Those visiting from other countries can present either their valid passport or a valid, government-issued photo I.D.
Closed-toed Shoes
Although there is no official dress code at Las Vegas Shooting Center, we suggest that all shooters wear closed-toed shoes to protect your feet from the hot brass that falls as you shoot.
Common Sense
Every loaded firearm is dangerous, however, the responsible handling of these firearms in a controlled environment is quite safe. Always use common sense, adhere to all safety rules and follow instructions from the range safety officers at all times.
In addition to the above, you can also bring:
Friends &Family
Even if they're not shooting, members of your group are welcome to observe from our lobby windows or on our indoor shooting range.
Children
Kids ages 8 and older are permitted on the range and can shoot firearms as long as they have a parent or legal guardian with them who will sign a waiver.
Cameras
We encourage our guests to safely and responsibly take all of the photographs they want – be sure to tag Las Vegas Shooting Center when you post your pictures on social media!
Range Bag
While Las Vegas Shooting Center provides essential equipment like firearms, ammunition and protective gear, we welcome all shooters to bring in their personal range bags. Some of the items we believe should be in every shooting range bag are a holster, multi-tool kit, first aid kit, gun oil, washcloths, squib rod, tactical light, masking tape, shot timer, speed loader, magazines, and ammunition. Keep in mind that Las Vegas Shooting Center only allows approved ammunition on our indoor shooting range. If you're in need of any of these items, stop by our on-site retail store.
Get Ready to Unload Hours of Fun at Las Vegas Shooting Center
Las Vegas Shooting Center offers a variety of group packages, and you can even reserve the range for a special event. Each package is customized to meet the needs of your group, whether large or small. Contact us at 702-778-5872 or stop by our indoor shooting range today to learn more about our packages, local discounts, firearms, and more.