Shoot a Barret .50 Cal in Las Vegas…Then Take It Home!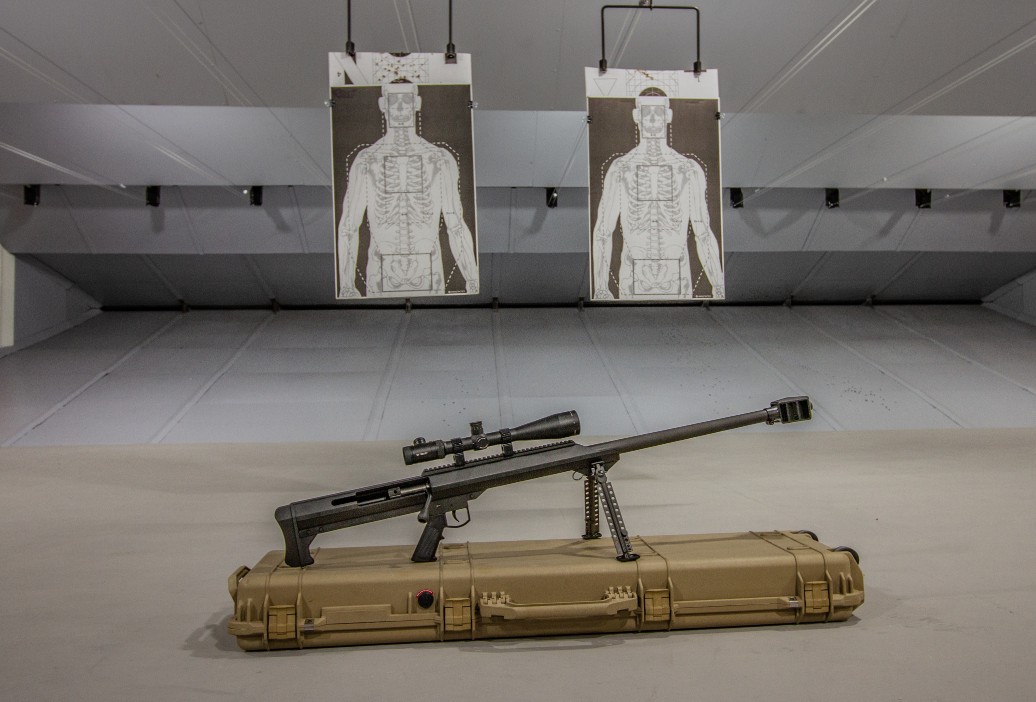 In the article titled, "The Loudest Bang You'll Never Hear", by Casey Bridges, its titled as such because of the shear power of the monstrous .50 caliber. – a rifle designed to travel over a mile, designed to penetrate AR 500 steel plating, used by militaries across the world, but more importantly, a rifle that anyone can fire with the help of nearly any range safety officer. Another reason why it was titled "The Loudest Bang…" is because the percussion of this rifle is powerful enough to shatter a cell phone that is simply lying next to the thing (the best idea is to have someone else record the shot, for the record). Like in several movies and TV shows, different variants of the .50 caliber are often seen, usually making a surprise appearance, or shown at the last second to build up the intensity of the scene. Bringing the popularity of the rifle even further, those same variants have been seen in several video games as well. Usually by the sniper player who hide all the way on the other side of the map.
Fire the Barret .50 Cal in Las Vegas at LVSC
Although other ranges may offer the chance to fire a Barret .50 cal in Las Vegas, not many that offer the chance to straight up buy one. "How does one purchase such a rifle" is a common question at gun ranges after hearing the shot, so if you're looking to buy in Nevada, you must be over 18, have no felonies or violent misdemeanors and have a valid Nevada state ID to begin the background check process. This is a simple ATF form and a short waiting period. Naturally, some training is suggested, as with all firearms.
The general cost for the single shot AR-50, is about $3,500 – not too bad for the rifle. A box of .50 caliber ammo runs about $60.00 for a box of 10 rounds, hence, why training is suggested to
learn how to make the shots count on target. Going a bit higher, the cost of the more famous Barret M107 runs for about $10,000 for the semi-auto variant, minus the scope, which is generally around $1500.00 for one that can withstand the percussion. For the M82 Barret is a little bit cheaper than its bigger brother, running at about $9,600.00.
Now, with COVID-19 slowing a lot of production down, some firearm manufactures simply have not been back to the factories to assemble them, so finding one may be on the challenging side. That goes for the Barret or the Arma-Lite models, but that does not mean they are impossible to find. Las Vegas Shooting Center is here to help. Because we have two of them already that we use on our range, we can order one or two and have them in-store in just a few weeks! 
LVSC has the compacted steel plates in the back of our range that can withstand the power of the .50 caliber. We also have expert gun smiths on deck who can help sight it in with whatever scope purchased with it. Now this does not mean that one can simply purchase one and be considered an expert in shooting long range. Like stated above, further training is a very good idea. LVSC is your one-stop shop for not only a very big rifle, or very big rounds, but also a lot of training to learn how to fire it safely.
Safety is indeed paramount with this kind of rifle, but that does not mean that all the fun is taken out of it. Head to Las Vegas Shooting Center and try one out, and if feeling up to it, why not get in line to owning one for that private collection? Contact us at 702-778-5872 to schedule your range time and shoot a Barret .50 cal in Las Vegas.