LVSC's Range Safety Officers Will Help You Get the Most Out of Your Brass Therapy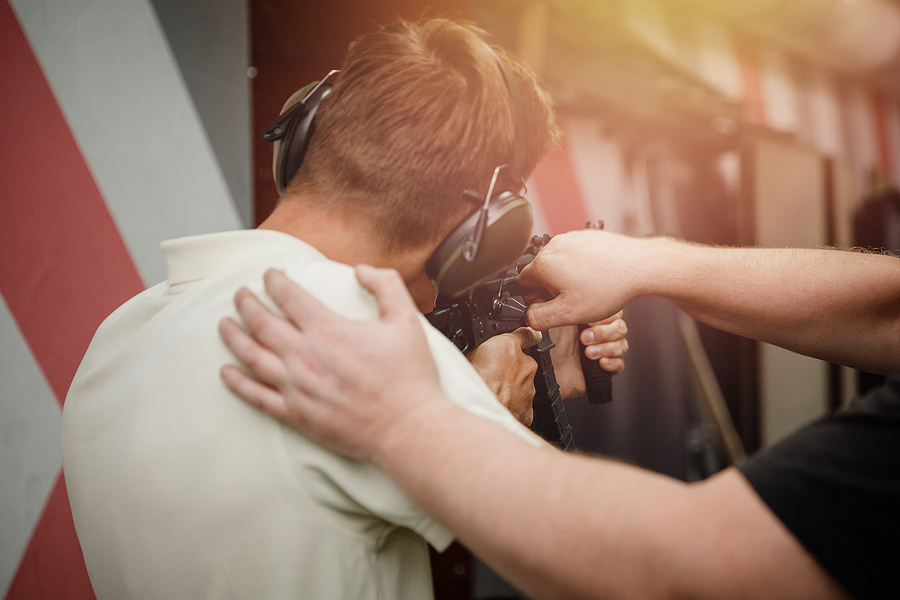 When you walk into Las Vegas Shooting Center, you're locked and loaded in the most extreme experience in Sin City. While your group blasts round after round of ammo, you'll unload hours of fun that'll keep you grinning from ear to ear for days. Even though our full arsenal of pistols, revolvers, semi-automatics, rifles and machine guns arm you with the most firepower you've ever held; we want all of our customers to know that our primary target is to ensure that you have a safe, unforgettable experience.
Prioritizing Safety in Our Vegas Shooting Range
The safety of our guests and employees is our greatest concern. We understand the potential dangers any loaded firearm possesses, even in the most trained and skilled hands. Safety is never an issue we take lightly, which is why Las Vegas Shooting Center is constantly staffed with exceptionally and extensively trained individuals known as range safety officers.
What Does a Range Safety Officer Do?
While you'll be the one pulling the trigger, you won't be alone on the range. Whenever there is a shooter on any of our twelve indoor range lanes, there will also be at least one range safety officer present.
What is a range safety officer? A range safety officer, or RSO, is a member of our Las Vegas Shooting Center team who will observe customers from behind the firing line at all times. Although these individuals are not members of any law enforcement branch, they are much more than simple range managers. Every RSO must undergo a tough training and testing process. After they've successfully passed these tests, they need to maintain certification through additional coursework and examination.
What does an RSO do? In short, they keep everyone on the range safe. Their main objectives are to ensure the safety of all shooters and guests, while also providing assistance to the shooters throughout their experience. This includes:
Sharing their knowledge with all customers.
Understanding and enforcing the local laws regarding firearm use and the unique rules of LVSC.
Helping customers comply with all LVSC rules and regulations.
Becoming comfortable and experienced with the types of firearms used in LVSC.
Identifying and intervening firearm malfunctions.
Inspecting the indoor shooting range for any hazards or necessary repairs.
Safely and swiftly shutting down the shooting range in the event of an emergency.
Taking immediate and decisive action to protect all individuals in LVSC when unsafe circumstances arise.
Range Safety Officers are here to make your experience as safe as possible. If at any time you feel uncomfortable or unsure about anything while on the range, an RSO will be nearby to provide you with any assistance you require.
Our LVSC Range Safety Rules
All individuals shooting or observing at our Vegas shooting range must follow all rules set forth by LVSC and our RSOs. For the safest visit, we encourage all visitors to follow these important safety rules:
Always have common sense while in LVSC, even if you're not shooting.
Always listen to the RSO.
Always handle a firearm as if it's loaded.
Always keep the muzzle of your firearm pointed downrange.
Always wear your protective equipment and be aware of your surroundings.
Always keep your finger off of the trigger until you're ready to shoot.
Never cross the firing line, including reaching over it with your hands or feet.
Never shoot at targets that are not in your range lane.
Never shoot at anything that is not a range-approved target.
Never operate a firearm under the influence of alcohol, illegal drugs, or prescription medications.
The RSO will pass you the firearm when it is ready to fire. If you have any additional questions or concerns, our Las Vegas Shooting Center range officers will be with you the whole time.
Frequently Asked Questions About Range Safety
At Las Vegas Shooting Center, your comfort, safety and confidence are our top priorities. We understand that each individual has their own unique comfort level around firearms, even if they're not the ones holding the gun. Mothers, fathers, wives, husbands and everyone in between may be a little concerned when they learn that their loved one is visiting a shooting range. Rest assured, the range safety officers at Las Vegas Shooting Center will keep all shooters and guests perfectly safe.
To help quell any concerns, we've compiled a list of frequently asked questions pertaining to the safety and security of the experience:
Q: Can anyone shoot a firearm at Las Vegas Shooting Center?
Yes, nearly everyone that walks through our Las Vegas shooting range doors are able to engage in a little brass therapy. However, we do have a few requirements that must be met. Absolutely no one under the influence of drugs or alcohol will be permitted on the range. All individuals must have a valid, government-issued I.D. such as a driver's license or passport. Children ages 8 and above can also shoot, provided that they have a legal parent or guardian present.
Q: Who is allowed on the range?
The RSO will always be on the range with our customers. Guests who wish to take photographs are able to watch from our lobby or on the range from a safe position.
Q: Is there a dress code?
While there is no formal dress code, we encourage all visitors to wear close-toed shoes, long pants and long-sleeved shirts to protect themselves from the hot brass that falls as your shoot. We also insist that all individuals wear protective eyewear and earwear to safeguard their faces.
Schedule Your Brass Therapy Session at Las Vegas Shooting Center Today
We invite you to grab your friends and get to know the range safety officers at Las Vegas Shooting Center. Our team of highly skilled and thoroughly trained RSOs are ready to ensure you're completely safe as you make it rain brass. Whether you're trying an indoor shooting center for the first time or are searching for a great indoor range close to home to hone your aim, our Vegas shooting range is open to men, women and children of all skill levels. Give us a call today to schedule an extreme experience for the whole family or stop by and discover the most explosive fun outside of the Vegas Strip.