Practicing Your Aim at Home when You Can't Go to the Indoor Shooting Range
No one likes being stuck at home, especially when you would rather be at the indoor shooting range getting in some quality practice. However, time at home doesn't have to go to waste and you don't have to let your shooting skills atrophy. There are several methods you can use to turn your yard into a faux shooting range, but it is important to remember that even though you are in your own personalized environment, gun and range safety should still be a priority. So, take the time and effort to create and spend some time in your own personalized home shooting range.
Laser Targeting
While some people might be opposed to attaching a laser to a pistol, it is still a great way to facilitate practicing your aim at home. There are numerous online tips that can help you build the right target, allowing you to see exactly where you want your impact to be with the help of the laser beam on the target you use. An additional bonus is that you can practice steadying your aim by practicing when it's dark outside, so you can clearly see the beam. This can help you significantly when you are back on the range, giving you an understanding of your own aiming movement skills versus the static target. As long as you don't mind using a laser attachment, it is a perfect way to help you practice aiming at home.
Developing Your Sight Picture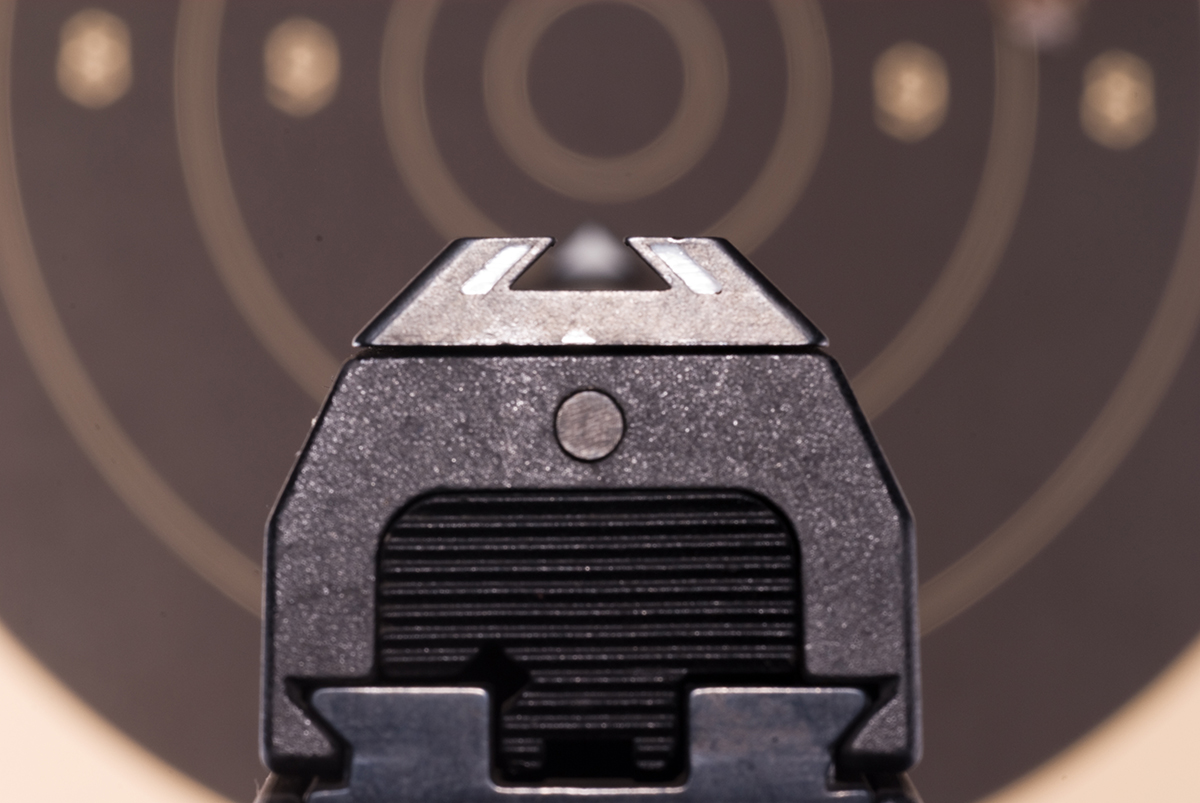 As mentioned, not everyone likes to use or has laser attachments, but still want to make the effort of getting some firearm practice while being stuck at home. Another critical shooting skill is that of aligning your sight and developing your sight picture for various ranges. This skill can be practiced at home, with or without a laser. Set up a target and different ranges to practice getting the best sight picture possible. Even if you don't have a lot of room, you can use small objects to represent different target sizes at different distances. While it might take a little research on the Internet and maybe a little bit of math, it will be well worth getting the practice and give you an idea of what kind of sight picture you might see on the range.
Stance & Grip
The importance of having the right grip and being in the right stance for effective shooting cannot be overstated. These are aspects that you can practice in your simulated indoor shooting range at your home. In fact, it is generally good to practice this even when you aren't under a stay at home order. A good way to practice is by balancing a coin on the tip of your pistol and move while maintaining the balance. This method can be particularly helpful with transition movements when switching from target to target. Other skills to practice at home include practicing trigger control, making sure your weapon is unloaded, using a cartridge guard if you have one and drawing and reloading your gun. This helps build muscle memory, as well as improve your confidence with your pistol. Again, it is important to do all this with a completely safe, unloaded gun and unloaded magazine.
Dry Firing
Some people think that dry firing, pulling the trigger and engaging the gun when there is no round in the chamber will damage the gun. This is generally untrue, unless you are using a rimfire weapon. Most modern pistols are centerfire, so there will be no damage to the firing pin from dry firing. If you are unsure about what gun type you have, it is best to make sure before you practice. It cannot be stressed enough that you should not attempt to dry fire with a round in the chamber, as it will no longer be a dry fire and could potentially injure someone or yourself.
Being stuck at home doesn't mean you can't get the right kind of practice, as this will improve not only your aim, but your ability to maneuver your pistol and engage targets effectively. Best of all, this practice can be done at any time you are unable to get to the range. The current pandemic doesn't need to affect your shooting ability and or skills. In fact, when businesses open up again, you will be in a prime position to get in some very solid practice at your local range.
Visit Our Indoor Shooting Range
Of course, when things start to return to normal and you are ready to get into some quality time with live firing; it would be a great time to consider taking a chance at having a great thrilling firearm experience at one of the best shooting centers in the country. The Las Vegas Shooting Center offers packages of all sizes for large and small groups to experience the thrill and adventure of firing quality high rate fire weapons. The experts at the Las Vegas Shooting Center are ready to help, you even if you have never fired a gun. Contact Las Vegas Shooting Center today to schedule the experience of a lifetime at our premier indoor shooting range.