Is Visiting a Las Vegas Indoor Gun Range Like Playing Paintball or Airsoft?
From elaborate missions to fun free for all, a round of airsoft and paintball can provide hours of fun. If you or your children like shooting paintballs and airsoft pellets, then you'll love our Las Vegas indoor gun range. Las Vegas Shooting Center is one of the oldest indoor shooting ranges in Nevada and we've been providing safe, family fun for adults and kids ages 8 and up.
We're locked and loaded to give you an experience like no other, especially if you're a fan of playing paintball and airsoft.
Those who love firing off rounds of paint and pellets will also have a blast at a shooting range. Naturally, using a gun with live ammunition is quite different than firing a "toy". You may, however, be surprised at just how similar shooting rounds at Las Vegas Shooting Center is to being on a paintball field or in an airsoft arena. Let's discuss the differences first.
Shooting a Firearm vs. Shooting a Paintball or Airsoft Gun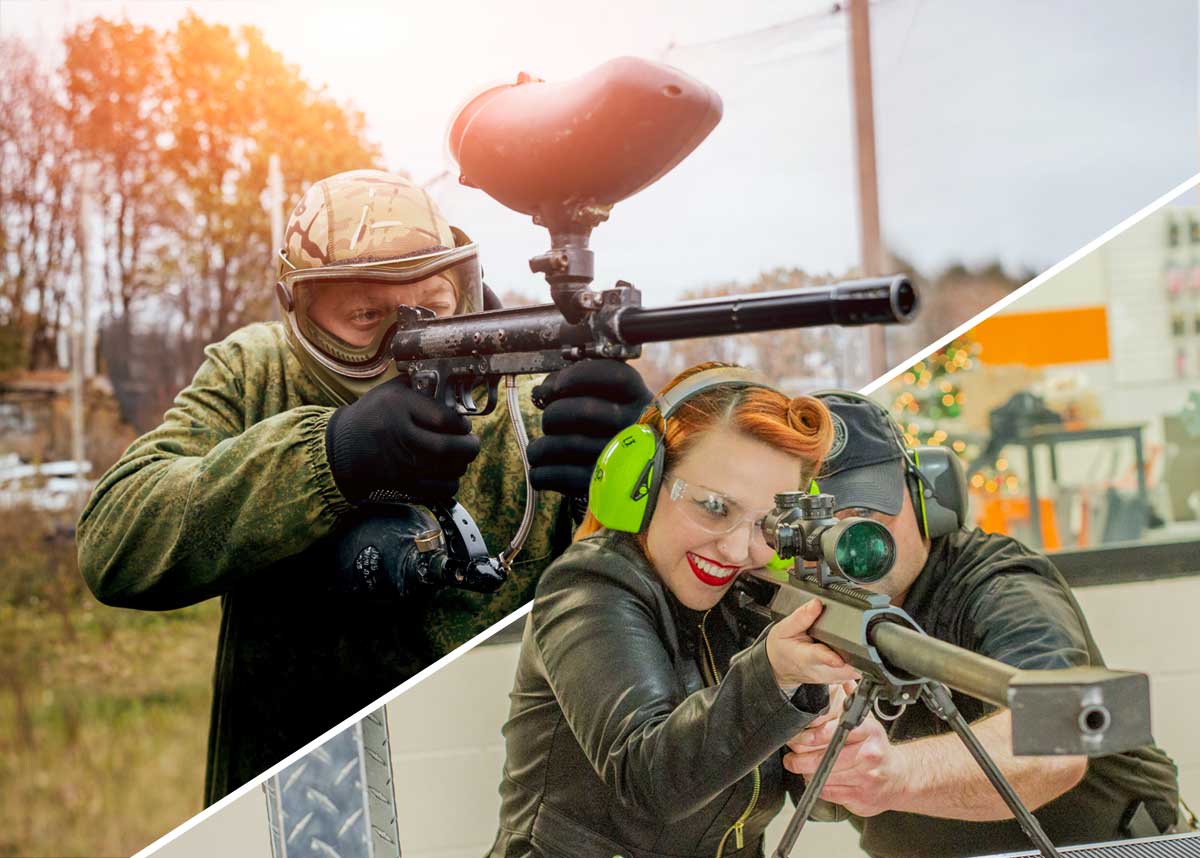 Firearms differ from airsoft and paintball guns in these ways:
Though an airsoft pellet or a paintball have the potential to cause serious bodily harm, a bullet is inherently more dangerous, so firearms should always be treated with the utmost safety.
At a Las Vegas indoor gun range, you will never shoot a firearm at another person and there will never be a person in the line of fire when the range is active.
Even though gun ranges for kids in Las Vegas do allow young shooters to participate in this fun activity, there are more rules on a range and all participants will be accompanied by an RSO to ensure the safety of all shooters and spectators.
Here's how these 3 very different activities are alike and why you're likely to enjoy shooting a firearm if you enjoy the other two:
You'll improve your aim and comfort level on all types of firearms.
It's a great group activity. Bring your best friend or your full paintball squad and see who the real sharpshooter in the group is.
Spectators are welcome to attend. Parents bringing their children to Las Vegas Shooting Center are welcome to accompany them onto the range, sit in the spectator area or wait in our retail shop.
It's an adrenaline rush. After your first time at our Las Vegas indoor gun range, you'll be begging to come back as soon as possible.
Visit Our Las Vegas Indoor Gun Range Today
If you haven't been to Las Vegas Shooting Center, what are you waiting for? With a variety of group and individual packages and a vast selection of firearms to choose from, there's something for everyone. You can even visit our on-site retail store after your range time to pick up a souvenir in the form of firearms, accessories or ammunition. Contact our Las Vegas indoor gun range today at 702-778-5872 to book your visit.