Give the Gift of Brass Therapy at LVSC This Holiday Season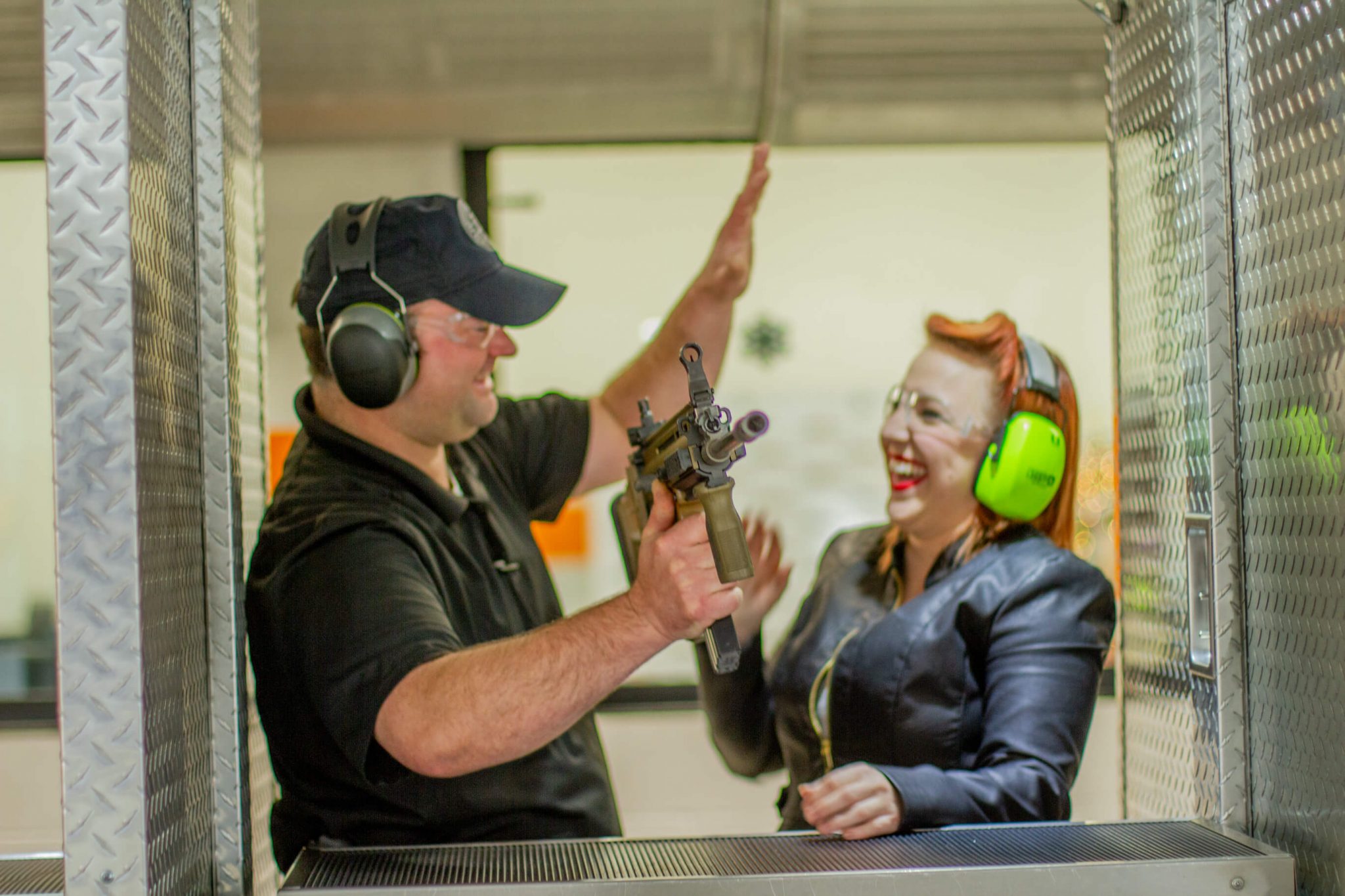 Shopping for that special someone can be either a quick stop, or a long drawn out adventure with bits of sanity reducing annoyances at every turn. Take for example, shopping for a certain kind of shirt the husband likes at a regular run of the mill department store: Christmas lights on every shelf, bright and loud colors at every angle, and Bing Crosby's White Christmas blaring from the speakers. Bottom line here is gift shopping is a hassle, and Covid-19 precautions can everything even more difficult. While the state of Nevada goes through numerous shutdowns and has its fair share of ups and downs, the American City of Lights is far from being unplugged. Many places are still open and operational this holiday season. Restaurants, bars, poker rooms, parks, and of course experience hubs, like Las Vegas Shooting Center's.
Places like Top Golf, or Speed Vegas offer experiences in the way of hitting that 200-yard hole, or taking a supercharged muscle car to top gear around a track. These kinds of experiences make a great gift for those wishing to escape the normalcy of battling lines and screeching Christmas music. However, these things are do-able any time of year and at nearly any place. So why not try something that only a select few can do, such as sling some lead out of a full auto machine gun?! Over at Las Vegas Shooting Center, they know that nothing helps ring in the new year like the consistent booms of a military grade M4 or AK-47, let alone a slew of other rifles and pistols designed to make any one giggle with the recoil. 
Brass Therapy at LVSC 
Firearms can be intimidating, naturally, but not all is lost. The Range Safety Officers at Las Vegas Shooting Center know everything there is to know about firearms, shooting, and otherwise, handling them in a safe way to make it fun and a once in a life time experience that will last forever. Some of the firearms available at LVSC will still be talked about at next year's office Christmas party, ones such as the Barrett .50 caliber sniper rifle, or the Smith & Wesson 500 magnum pistol. Firearms so big, they can make Arnold Schwarzenegger blush like he did in his Junior (1994) days.
Say that shooting firearms bigger than the shooter is on the "hard no" list, that's okay, Las Vegas Shooting Center has an entire wall of firearms to choose from! Anything from the small .22 LR pistols, to some of the standard issue 9mm's in the world. Keep in mind that with the Range Safety's close by, everyone can shoot accurately and safely, while still looking professional for those Christmas cards. Fans of Call of Duty can also get to have their chance at popping off a few rounds with some of the firearms the characters use in the popular video game franchise. 
Even if it seems overwhelming, LVSC packages are available to start off small with a rifle and a pistol, to the largest firearms available at LVSC. Naturally, if owning a firearm is on your wish list but the need for a test firing is in order, LVSC also offers singular packages. For example, let's say that your special someone wants to have a HK USP 9mm in their life, but has never shot one, LVSC has one for use! Makes that special purchase all the better, because test firing is a must if someone is getting into owning a firearm.
One of the many other draws to LVSC is its retail store! Keep in mind that although Covid-19 brought on well over a million gun sales across the country, base model rifles and pistols may be hard to come by, but that does not mean that LVSC is bare. They still have a wide variety of firearms and gear to choose from, such as knives, backpacks, holsters, magazines, optics, and build kits just to name a few. Even out-of-towners can come by and pick up a few trinkets or souvenirs for those stocking stuffers. If that special someone is already into firearms and has a few, LVSC offers different avenues into training, such as shooting and moving, concealed carry courses, holster training, and basic shooting skill building. 
Feel the Power at LVSC this Holiday Season
All of this and more can be found on LVSC's website. If a group event is on the table, simply ask for reservation specialist when calling, and we will get everything set up with plenty of options and packages, at group rates. Ringing in the new year has never been so long awaited, so why not start it off with a bang, and then another bang, and another bang, about 30 times?! Call 702-778-5872 to book your range time, today!