Shoot in Vegas & Make Your Trip Legendary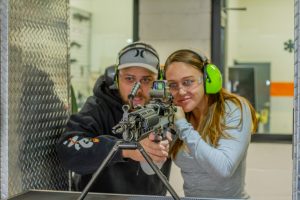 Las Vegas is considered by many to be the ultimate playground and a must-visit tourist destination. Sin City, as it is colloquially known, is home to numerous attractions, from historic museums and glitzy casinos to fancy hotels and shopping districts. So, if you plan on visiting Las Vegas whether solo or with friends you're guaranteed non-stop fun and plenty of exhilarating activities to do.
That said, Las Vegas is also increasingly becoming a top destination for firearms enthusiasts offering modern indoor shooting ranges. Here are some of the top reasons why you should consider a session at the Las Vegas Shooting Center during your trip to Las Vegas.
Practice Your Marksmanship in a Safe and Controlled Environment
Whether you're a beginner or seasoned marksman, safety is obviously a top priority when it comes to choosing an indoor range to shoot in Vegas. Fortunately, Las Vegas Shooting Center (LVSC) is a state-of-the-art gun range offering the highest standards of safety and comfort. The facility provides protective gear such as eye and ear protection to keep you safe and confident during your target practice.
Experience The Power Of Different Guns
If you're like most gun enthusiasts, one of the biggest incentives to shoot in Vegas is to try out firearms that you don't own or may not come across normally. At LSVC you'll find an eclectic selection of some of the most impressive firearms on the market ranging from standard handguns and rifles to powerful shotguns and submachine guns. The facility also offers a range of customizable firearm packages designed to give you a more rounded and personalized shooting experience.
Enjoy Quality Instruction from Knowledgeable Experts
Unless you're a seasoned marksman with many years of experience under your belt, you could always use some guidance from a professional gun handler when practicing your shooting skills. Even if you've got considerable experience, you might still need the input of an expert to help you hone your abilities. The good news is LVSC is served by a team of highly-trained instructors who are always on hand to not only ensure your safety during shooting sessions but also to provide guidance on gun handling and shooting techniques.
Connect With Other Firearms Enthusiasts
There's nothing better than sharing a passion or interest that's dear to you with like-minded people, and the opportunity to shoot at a top gun range allows you to do just that. During your visit to LVSC, you'll not only get to try out an excellent selection of guns and sharpen your shooting skills, but also interact and bond with other shooters. In doing so you open up yourself to the possibility of making lifelong friends who share your passion for firearms.
Unleash Your Inner Marksman at Las Vegas Shooting Center
Few experiences are as exhilarating as shooting a gun. So, if you're looking for ways to maximize the thrill of your visit to Vegas, it makes sense to book a session at a top gun range like Las Vegas Shooting Center. Our facility not only offers everything you need to feel safe and confident but we also have a colorful array of firearms for you to try out.