Unlocking the Las Vegas Gun Store Experience at LVSC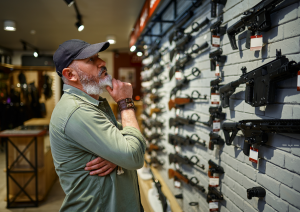 Are you a gun enthusiast who would enjoy an adrenaline-pumping gun firing adventure in Las Vegas? Perhaps you are gun-averse but curious to know how it feels to hold or fire a high-powered gun? Las Vegas Shooting Center is your ultimate destination for an unparalleled firearms experience. We are a premier Las Vegas gun store offering a wide selection of firearms and shooting experience packages that will satisfy even the most discerning thrill seekers.
The Gun Selection at Our Las Vegas Gun Store
Las Vegas Shooting Center has a wide selection of gun inventory, including popular handguns such as the Beretta M9, Glocks, and the powerful S&W 500. Even if you prefer rifles, we've got you covered. From the iconic AK47 and M4 to the Barrett 50 Cal and M249 Saw, our Las Vegas gun store has an impressive collection. You can also explore unique shooting experiences with rifles like the Thompson 45, REM 870, and P90. Our inventory boasts a wide range of rifles to satisfy any shooter's preferences.
Shooting Experience Packages
Las Vegas Shooting Center prides itself on providing a range of packages designed that cater to everyone's shooting preferences. Whether you're a beginner or a seasoned pro, we have packages that are entertaining and friendly that offer an excellent way to explore the world of firearms. Let's dive into the thrilling gun shooting packages available for you to choose from:
1. Minor Leagues Package
Calling all young enthusiasts aged 8-14 years old! Let your kids burn off some extra energy with our firearms that are specifically suited for their age group. The Minor Leagues package includes a .22 Rifle M&P 15-22 with 20 Rounds and a .22 Pistol GLOCK 44 with 10 Rounds.
2. Pistols Package
Unleash your inner gunslinger with our Pistols Package. Choose three handguns from a variety of options, including popular models like the GLOCK 19, HK USP, SIG P320, 1911, GLOCK 21, and SNUB NOSE or VAQUERO. Each handgun comes with its own magazine and round count, allowing you to experience the unique characteristics of each firearm.
3. First Base Package
Looking for a quick session of brass therapy? The First Base Package offers you the choice of a rifle from MK9, KP9, or MP5, paired with a pistol from GLOCK 19, HK USP, or SIG P320. Amp up your experience by adding ammo for $60 and receive a free t-shirt.
4. Hat Trick Package
If you're seeking a triple dose of excitement, the Hat Trick Package is perfect for you. It includes an M4 rifle, a GLOCK 19, HK USP, or SIG p320 pistol, and a Sass rifle. Experience the thrill of shooting three different firearms in one package. Add ammo for $80 and receive a free t-shirt.
5. Hole in One Package
The Hole in One Package is a grand slam of firearms. It includes an AK47, M4, MP5 or MK9, GLOCK 19, HK USP or SIG P320, and a Sass rifle. With three rifles, one pistol, and a long rifle, this package offers an exhilarating shooting experience. Add ammo for $150 and receive a free t-shirt.
6. Machine Gun Package
For the ultimate firepower experience, try our Machine Guns package. Shoot the HK UMP, AK47, MP5, M4, and M249 SAW under the careful guidance of our expert staff. Add additional ammo for $150 and receive a free t-shirt.
7. Touchdown Package
For the pinnacle of shooting packages, the Touchdown package offers an exclusive and unforgettable experience. Contact us for more details on this extraordinary package.
In addition to our packages, Las Vegas Shooting Center offers various add-ons to further customize your adventure. From the powerful 50 BMG to adding a machine gun or pistol to your package, you can tailor your experience to suit your preferences. Targets, ear, and eye protection are included in all packages.
At Las Vegas Shooting Center, we believe in providing an entertaining, friendly, and instructional environment, ensuring you hit your target with precision and have an unforgettable shooting experience.
Feel the Power at Las Vegas Gun Store
Las Vegas has become synonymous with the machine gun experience, and Las Vegas Shooting Center is at the forefront of this exhilarating trend. Choose from our diverse inventory of firearms and packages, and feel the power as you center yourself, fix your gaze, and pull the trigger.
Remember, at Las Vegas Shooting Center, it's not just about pulling the trigger; it's about unlocking an experience like no other. Visit our website and book your thrilling shooting adventure today!