Discover the Thrill: Las Vegas Gun Range for First-Timers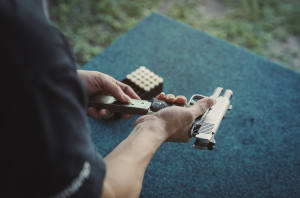 Any shooting enthusiast will tell you nothing is better than quality trigger time. And what better way to test your skills than to sample a trusted Las Vegas gun range? The city has a rich firearm culture and boasts some of the best shooting spots catering to newbie and veteran marksmen. Here's a lowdown of the best shooting ranges in Sin City. 
Las Vegas Shooting Center
Located at 5155 S. Dean Martin Dr. Suite, this indoor shooting facility is arguably the go-to Las Vegas gun range. The Las Vegas Shooting Center offers the most thrilling and extreme gun range experience at affordable prices. When you visit the facility, you will find trained range staff who provide instruction and supervision to help hone your expertise.
At the Las Vegas Shooting Center, you will find a broad range of firearms, from the simplest pistols to the most powerful machine guns. So, whether you are a newbie who wants to try out a light firearm or an experienced shooter looking to experience raw gunpowder, there's something for you. What's better, this premier Las Vegas gun range offers free transportation from the city's downtown and Strip casinos. 
Strip Gun Club
Strip Gun Club is another Las Vegas gun range that can offer the excitement of loading and unloading clips into targets. Located right on the Las Vegas strip, the facility's convenient location at the corner of Las Vegas Boulevard and Sahara means you can transition from high stakes to high-velocity gunfire in a heartbeat. 
Boasting dozens of firearms and shooting packages, you'll find an experience that suits your skills. Strip Gun Club is renowned for its commitment to education. A range of training programs are offered, targeting newbies and marksmen looking to refine their skills. 
Machine Gun Experience
If looking to immerse yourself in the ultimate shooting experience, make the Machine Gun Experience your go-to Las Vegas gun range. Set on 5 acres, this military-style facility is a shooter's nirvana. It features tanks, helicopters, military vehicles, and everything you need to become an expert shooter. 
Two shooting packages are offered at the gun range: GI Joe and Tactical Force, with prices starting at $135. Whether you're a newbie or a veteran shooter, you'll access all the facilities needed to refine your skills. The price includes professional instruction, eye and ear protection, and downtown pickup and drop-off in a military-style Humvee. 
Battlefield Vegas
In true Vegas fashion, Battlefield Vegas is one of the largest and flashiest shooting ranges you'll find, with a variety of armory, range targets, and shooting games. The facility offers over 1,000 weapon systems, from the basic firearms deployed during World War I to the latest artillery. So, whether you want a low-key shooting experience with a simple handgun or high-adrenaline fun with a machine gun, this range offers both.
Battlefield Vegas is military-themed and focuses on using guns as entertainment. An instructor is always at hand to help, so you won't have to worry about your not-so-perfect shooting skills. Located on Sammy Davies Jr. Drive close to South Las Vegas Boulevard, Battlefield Vegas offers pickups and drop-offs to clients. Thus, you will always arrive at the range in time for your appointment with the trigger. 
Experience Extreme Gun Fun Today
There is no better way to cap off your visit to Las Vegas than visiting the city's gun ranges to let off some steam. At Las Vegas Shooting Center, we pride ourselves on being the city's premier shooting spot. Our state-of-the-art facilities allow newbies and experienced shooters to test their precision and accuracy. We look forward to your visit, so browse our packages and book what suits you.