Why LVSC is a Must-Visit for Every Bachelor Party in Vegas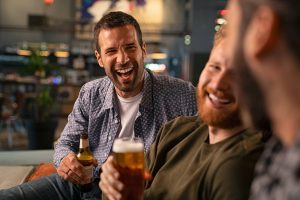 Suppose you have an upcoming wedding. There's no better way to let loose and have fun than visiting the Las Vegas Shooting Center. It is the go-to venue to hold a bachelor party in Vegas as you count down your last days as a single man. 
Indeed, when commemorating your bachelor party in the Sin City, you could check out the numerous nightclubs and casinos on the Strip. No one will begrudge you for that—after all, that is how most people celebrate their bachelor parties in Las Vegas. But isn't that too cliche? So, how about exiting the singles club with a bang by heading out to a gun range? Here's why Las Vegas Shooting Center is a must-visit when planning a bachelor party in Vegas.
A Once-in-a-Lifetime Experience
Bachelor parties are a decades-old tradition that allows the groom-to-be to bond with his friends and loved ones before getting married. They are often a one-in-a-lifetime celebration, so it's best to make it memorable and have as much fun as possible. If you are a gun enthusiast looking for a bachelor party spot in Las Vegas, look no further than LVSC. The gun range has all the amenities and firearms needed for a fun and memorable bachelor party in Vegas. 
The LVSC offers incredible bachelor party packages to ensure your buddies have thrilling fun and talk about it for years. Nothing beats the thrill of firing different weapons at a gun range, and what better day to do it than at your bachelor party? LVSC offers unique, relatively affordable, adrenaline-pumping bachelor party gun packages. So, avoid the beaten path of Vegas casinos and nightclubs and visit the gun range for the ultimate fun. 
Exclusive Bachelor Party Vegas Packages
LVSC has a remodeled facility where bachelor parties are held. You will find certified training instructors to guide you and your crew. There's also a broad selection of guns, so regardless of the weapons your buddies are into, no one will miss out on the fun. The complimentary amenities included in your bachelor party package include: 
Are you worried about getting your crew to and from the gun range? Well, worry no more because LVSC handles that for you. Bachelor parties typically involve fitting as many activities as possible into a tight schedule. To ensure you enjoy the special day, LVSC handles the logistics of transporting your crew to and from the Strip. 
You'll undoubtedly want to hold your bachelor party away from prying eyes, and LVSC can help you achieve that. We don't want you and your crew to get lost in the crowds, so we ensure you use the LVSC gun range exclusively. Furthermore, booking the bachelor party package provides access to an exclusive lounge where your cre can unwind after spending hours filing ammo at the range. 
Customizable Bachelor Party Packages
LVSC knows too well that every bachelor party is different. For this reason, multiple gun packages are offered alongside various add-ons to personalize every bachelor party. So, if you've always wanted to fire a machine gun, LVSC can create a custom package that includes your favorite high-caliber firearms. The gun range does everything possible to accommodate your preferences. 
Firing guns can be draining, so LVSC supplies its bachelor parties with endless snacks to keep the energy flowing. For safety purposes, alcoholic beverages aren't served at the gun range, but be sure to sample the refreshing alternatives.  
Get the Party Going
Bachelor parties in Las Vegas don't have to involve club-hopping and gambling. You can have the ultimate bachelor party Vegas experience at LVSC. We look forward to helping you exit the singles club with a bang, so contact us to learn more about our bachelor party packages.