Why Las Vegas Shooting Center Is the Perfect Venue for Your Next Corporate Event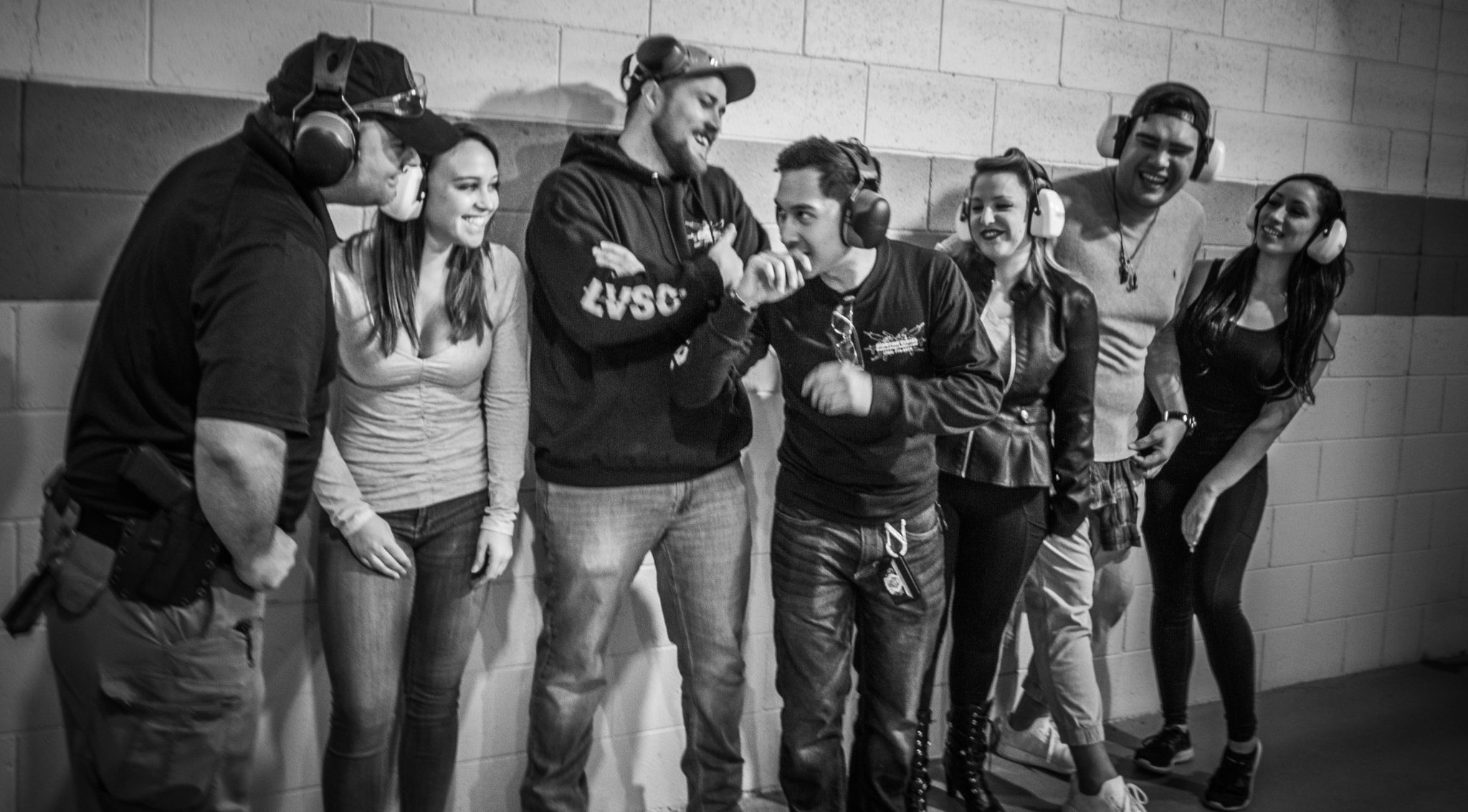 Treat your team to an unforgettable day of fun by hosting your next corporate event at Las Vegas Shooting Center. As the ultimate destination for Brass Therapy in Sin City, you'll realize why Las Vegas Shooting Center is a top-rated gun range the moment you pull the trigger. Our group packages are perfect for parties of any size. Your team will have a blast unloading hours of fun in our 12-lane shooting range privately reserved for your group only. 
Why Host Your Corporate Event at LVSC?
Our highly trained staff is dedicated to making your company experience adrenaline-filled, yet completely safe.
Company Parties
Holidays, anniversaries, record-breaking milestones — there are plenty of occasions throughout the year that deserve celebration. Host your next company party at Las Vegas Shooting Center and treat everyone to an exciting day of fun. We're located within a mile of Las Vegas Blvd, the T-Mobile Arena and many other signature Las Vegas attractions, allowing your employees and their families to reload the evening with more fun when the party concludes!  
Employee Appreciation Events
Your employees work hard for you every day. Don't settle for cake in the conference room — get them out of the office and onto the range for the day! A fun experience for small groups, especially those who have never fired an automatic firearm before, LVSC lets you customize your corporate event with any firearms in our inventory. Rifles, pistols, snipers — if you're looking for a way to thank your employees for their hard work, a trip to Las Vegas Shooting Center hits the bullseye. 
Team-building Exercises
As a leader and manager, your goal is to unite, inspire and improve your team. Team-building exercises are proven to benefit the workplace by building trust among co-workers, improving company morale, enhancing communication, uncovering leadership qualities, and identifying strengths. Switch up the regular dynamic and bring your employees together in a new setting that encourages stimulation and growth.
Special Meetings
Do you have clients, management or employees visiting from out of state? Treat them to an experience like no other at LVSC. Instead of hitting the typical tourist sites that they'll likely visit on their own, you can present your guests with a uniquely Las Vegas experience. At LVSC, you'll trade the hot sun and packed crowds for a fully-loaded mag and the heat coming off of the muzzle as they fire round after round of fun. 
Corporate Event Group Packages
Las Vegas Shooting Center can facilitate your ideal corporate event, complete with team-building competitions, swag bags, food and beverages, themed events, and so much more! Pricing is personally arranged based on the type of experience your team desires. Contact us today to discover how you can turn a boring day at the office into an unforgettable afternoon on the range!