Check Out LVSC's Indoor Shooting Range and Gun Retail Store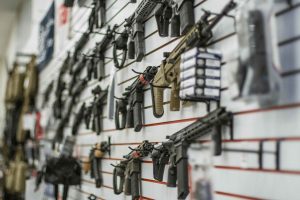 You're ready to try out or even purchase a new gun, but with limited time in your day, you don't want to sacrifice your firearm practice time at a stand-alone shooting range to shop.
Instead of trekking back and forth to the shooting range and a gun retail store, stop by Las Vegas Shooting Center for all your firearm needs!
One Stop Firearm Shop
Las Vegas Shooting Center is your one-stop-shop for all your firearm needs. We offer a climate-controlled indoor shooting range with 12 lanes. Grab a friend or fellow firearm enthusiast; we have plenty of space for everyone.
Our team of specialists can help you improve your shooting technique, or, if you aren't sure what firearm you want to practice with, we can provide suggestions that are catered to your skill level and shooting needs.
When your range time is over, our gun retail store is conveniently located in the same facility.
The Gun Retail Store at LVSC
LSVC's retail store carries everything you need for your firearm collection, including guns, knives, optics, ammo, and accessories.
Some of the firearm brands that we carry include:
Glock
Sig Sauer
Remington
CZ
Ruger
Springfield Armory
Kel-Tec
Daniel Defense
Heckler & Koch
Ritter & Stark
Smith & Wesson
Core-15
FNH
Noveske
We also sell multiple optic brands, such as:
Burris
Leupold
Aimpoint
Trijicon
Riton
Burris
Our gun retail store has a variety of remanufactured and factory-new ammo calibers for a variety of firearms.
Need a new bag to stow and transport all your firearm accessories? We have a terrific selection of range bags, backpacks, and firearm cases.
Whether you're purchasing your first firearm or are an experienced firearm owner, we're a convenient alternative for trying out and purchasing your new firearm.
Book Your Range Time and Visit Our Gun Retail Store
Want to fine-tune your shooting skills with some of the world's most powerful firearms? Or, are you interested in adding one of these impressive firearms to your personal collection? Contact Las Vegas Shooting Center online or call us at 702-778-5872 to schedule your range session. Our trained experts on the shooting range and gun retail store are ready to help you find the firearm that's right for you.