Top Reasons to Host Your Vegas Bachelorette Party at LVSC's Indoor Shooting Range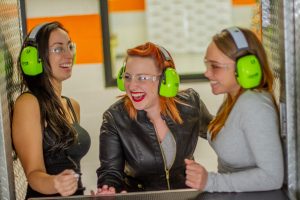 When you need to plan an exciting Vegas bachelorette party, it's essential to think outside the box to plan a truly memorable outing. An indoor shooting range is an excellent spot for your bachelorette party. At Las Vegas Shooting Center, we're ready to assist you with planning a celebration you won't forget. Check out a few reasons to book an indoor shooting range for your Vegas bachelorette party.
A Shooting Range is an Exclusive Venue for Your Party
There are a lot of terrific spots to celebrate on the Strip, but it's easy for your group to get lost in the crowd. Popular party locales often have multiple parties going on, making it difficult for your group to receive customized attention.
At Las Vegas Shooting Center, we focus all our attention on your group. Your Vegas bachelorette party will have exclusive use of our climate-controlled indoor shooting range.
We offer a variety of firearm packages to choose from, or we can even assist you with selecting a custom package that's better suited to your bachelorette party's attendees.  Or, if you have a specific budget in mind, we'll explore your options with you so your celebration doesn't break the bank.
Las Vegas Shooting Center Can Help with Your Party Planning
Planning a bachelorette party is a little intimidating, but it can feel even more daunting when you're in a new city or trying something new. We're happy to assist you with all your party details so that you don't overlook anything you need for a memorable bachelorette party.
If you want to serve food during the party, we offer onsite catering to ensure your crew stays nourished during their time at the shooting range. While we don't serve alcohol at Las Vegas Shooting Center, we're happy to provide other refreshing celebratory beverages.
Souvenirs are also available if you want to arrange for a friendly shooting competition or make sure that each party attendee leaves with something to remember your event.
You'll Have Everything You Need for a Fantastic Party
Unlike other adventurous Vegas bachelorette parties, you don't have to spend time before the celebration arranging for each person to bring or rent their own equipment.
Instead, we supply everything you need, including firearms, ammo, sites, and ear and eye protection.
Schedule Your Vegas Bachelorette Party Today
Host your Vegas bachelorette party at one of Las Vegas' most extreme experiences, Las Vegas Shooting Center! Contact our indoor shooting range online or by phone at 702-778-5872 to schedule your ultimate Vegas bachelorette party today!