Popular Firearms to Try at the Indoor Shooting Range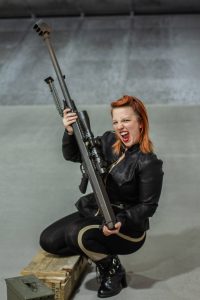 You're ready to spend an afternoon perfecting your firearm skills, but you're not sure what popular firearms to select for your time at the shooting range.
At Las Vegas Shooting Center, we offer a variety of firearms so you can cater your range time to your needs and favorite gunslinger. Here are a few of the most popular firearms you can try out at our indoor shooting range.
The HKUSP Handgun
Popularized by movies like Blood Diamond and Tomb Raider, along with the Counter-Strike video game series and TV show 24, have helped make the HKUSP handgun one of the most famous firearms at our shooting range. This compact handgun performs like a short rifle.
The M1911 Pistol
The M1911 pistol is frequently seen in World War 2 movies and popular video game series (like the Call of Duty and Battlefield game franchises) that focus on this time period. This pistol is an excellent option for beginner shooters or anyone looking for a firearm that's easy to control and aim.
The AK-47
The AK-47 is one of the most well-known firearms, making an appearance in an assortment of movies (Hotel Rwanda), TV shows (Breaking Bad), and video game franchises (Battlefield and Call of Duty). Since the AK-47 was designed to be comfortable to shoot and maneuver in any climate, it's a fun, exciting selection for anyone who wants to add a famous firearm to their indoor gun range session.
The M-4
The M-4 rifle is preferred by shooting clubs and militaries across the world thanks to its power and efficient design. You've probably seen the M-4 in the Call of Duty series or John Wick.
The FN P90
James Bond wields the FN P90 in Tomorrow Never Dies; this rifle is also a favorite of special forces throughout the globe. This fast-firing rifle is one of the most exciting, distinctive firearms you can shoot with thanks to the unique design.
The Thompson 45
The Thompson 45 is more famously known as a "Tommy gun." It's the firearm you see in old gangster flicks (like Scarface or The Godfather), as well as WW2 movies and video game series.
Control Some of the Most Popular Firearms on the Market to Date at LVSC
Ready to try out some of the most popular firearms on the market? Contact Las Vegas Shooting Center online or call us at 702-778-5872 to book your shooting range time!